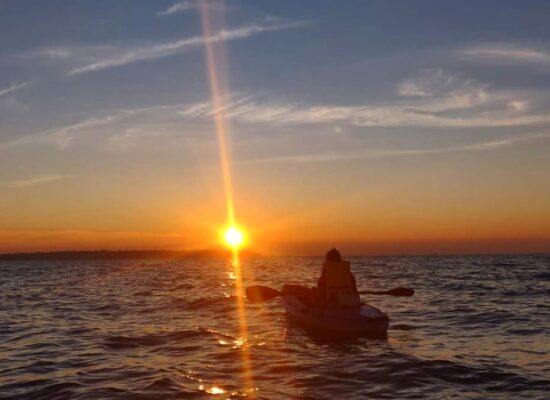 Kayaking has a charm that is all its own. It's you, alone, in a boat powered just by you.
You could paddle or you could ponder. All of nature's majesty lies before you…
We teach kayaking basics before you start. It's not difficult. A 10-minute briefing followed by a 10-minute familiarization exercise on the water is sufficient for even a complete novice to participate in any of our kayaking excursions. Expert instructors accompany you as you kayak in the sea to reach secluded little beaches or through a backwater mangrove wonderland.
Goa's seas and backwaters provide an astonishing variety of sights and experiences that you will remember long after you leave. Tiny deserted beaches, charming beach shacks, traditional fisherfolk, dense mangrove forests, birds, water life, bunds, traditional houses and the strange trappings of modernity intermingle. It's an irresistible package.

List of upcoming events
KAYAKING
Why Adventure Breaks
THE BEST EQUIPMENTS
Our sit-on-top kayaks, paddles, back rests, accompanying boats (where necessary), life jackets, paddle leashes, etc, are all top-of-the-line. They are stable but manoeuvrable, and track cleanly.
Kayaks:
1

Bilbao: 3m (10ft) long, 78cm (2ft 7in) wide. Wt: 21kg. Max load: 110kg. Bic Kayaks, France

2

Itiwit|Tribord: 2.7m (9ft) long, 78cm (2ft 7in) wide. Wt: 17kg. Max load: 110kg. Decathlon, India
Our Bilbao Kayaks can take a child 8 years or under, in addition to the accompanying guardian.
Same day of activity: NO REFUND

Upto 24 hours: 25% REFUND

24 hours to 48 hours prior to activity: 50% REFUND

Prior 48 hours: 75% REFUND
LOOKING FOR A PRIVATE/GROUP ACTIVITY?
All kayaking is conducted by the Adventure Breaks Club.
Membership of the club is included when you book your first excursion.